Next Update
April 2023
Year Ending March 31,2023
Financial Results
Message from CEO
To Our Shareholders
In the first half of the fiscal year under review, consumption was tepid due to global inflation and COVID-19, and the economy recovered at a slower pace. In the electronic components industry as well, a shortage of semiconductors and other factors held up production, and shipments were sluggish.

In such a business environment, we strived to expand sales to new customers and took various measures to improve productivity. Furthermore, we were able to increase both sales and profits in the first half partly because the export/import-related businesses, including emergency air freight, continued to perform strongly and the yen weakened significantly. We also raised the forecasts for full-year financial results and year-end dividends from those at the beginning of the fiscal year.

In the second half of the fiscal year, there is a growing sense of uncertainty due to concerns about a global economic slowdown, geopolitical risks, and other factors. In the electronic components industry, the business environment for electronic component logistics is expected to become even more challenging due to the continued shortage of semiconductors and a drop in demand for electronic equipment. We will continue to improve performance through sales expansion activities and efficiency improvement, without being complacent about our favorable financial results in the first half.

We would like to ask for your continued support and encouragement.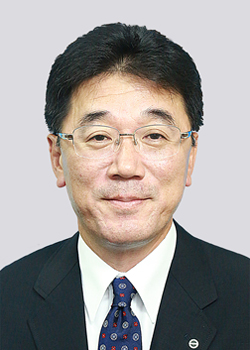 Representative Director, President & CEO
Masaru Usui
Share Price