Next Update
October 2023
Six Months Ending
September 30, 2023
Financial Results
Message from CEO
To Our Shareholders
I hope you are enjoying the early summer weather. Please allow me to offer my sincere thanks to all of our shareholders for your day-to-day support.
In the year ended March 2023, we ran our business amid an ongoing easing in various COVID-19 restrictions. In the electronic components industry, demand weakened for consumer equipment and telecommunications &IT equipment because of the effects of inflation, but automotive-related production has gradually recovered.
Under these circumstances, Alps Logistics worked hard to expand sales by gaining new business, while also tackling measures to increase productivity, for example through automation and systemization. We posted record sales and record income, helped by high levels of international cargo shipments, as well as a weaker yen.
In the year ending March 2024, a tough business environment is expected, with slower shipments of electronic components resulting from a slowing recovery in demand for digital equipment. However, as we aim to achieve sustainable growth, we will expand our business domains into new markets and new businesses, and accelerate the development of our global network. Moreover, we will expand our "electronic components logistics platform", which is built on shared storage and consolidated transportation, and work to increase the efficiency of logistics while reducing our impact on the environment.
I am truly grateful for the ongoing support and encouragement of all our shareholders.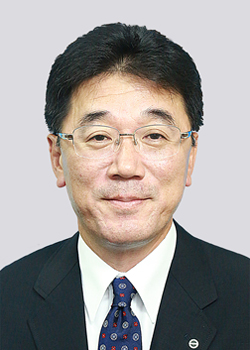 Representative Director, President & CEO
Masaru Usui
Share Price