Pursuing optimal logistics across ASEAN
The rapid economic growth in ASEAN, coupled with rising labor costs in China and trade friction between China and the US, is prompting increasing numbers of manufacturing industries to relocate their production to ASEAN. Alps Logistics has a diverse line-up of solutions covering the ASEAN region that can help customers achieve supply chain optimization.
Manufacturing are moving from China to ASEAN
The manufacturing industry's ever-accelerating shift to ASEAN
The manufacturing industry is continuing to accelerate the speed at which it is shifting production plant from China to ASEAN. Alps Logistics was one of the first logistics companies to respond to this ASEAN shift. We now provide an ASEAN supply network, with a focus on Vietnam and Thailand, through a full range of land, ocean, and air freight services.
"We've moved our production plant to ASEAN, but we still want raw materials and components from China, just as before". There will be plenty of assembly manufacturers who feel like this. But there will also be plenty of suppliers who balk at assembly manufacturers saying "now we need Just In Time Delivery to our new plant in Thailand". Alps Logistics can help you to establish new ASEAN supply networks and make improvements in your logistics management. Please get in touch to discuss your needs.
The manufacturing industry's accelerating shift to ASEAN (example)
Your perfect ASEAN logistics partner
Cross-border truck transport to connect ASEAN
Alps Logistics has established its own logistics centers within or in the vicinity of major cities across ASEAN in order to be able to offer a flexible and broad response to the diverse logistics needs of our customers.
For ocean freight, we have centers in major ports across ASEAN including Port Klang (Malaysia), Laem Chabang (Thailand), and Ho Chi Minh City (Vietnam). For air freight, we handle international freight primarily through our centers in Kuala Lumpur (Malaysia), Bangkok (Thailand), and Singapore, located centrally between those two points.
For land freight, we offer cross-border truck transport services across the Greater Mekong Subregion (GMS), comprising Thailand and the CLMV countries (Cambodia, Laos, Myanmar, and Vietnam), also referred to as "land-linked ASEAN". These cross-border services offer lead times not considerably dissimilar to air freight services between South China and Hanoi, Vientiane and Bangkok, and Singapore-Kuala Lumpur-Bangkok services, respectively, while offering significant cost benefits. We are also expanding our logistics networks across maritime ASEAN countries, including the Philippines and Indonesia. Alps Logistics can offer robust support to customers aiming to optimize their supply chains across ASEAN.
ASEAN cross-border truck (CBT) transport
Controlled temperature and humidity, high quality warehousing functions
Using the unique know-how and expertise we have fostered through our dealings with more than 6,000 domestic and international accounts, Alps Logistics makes possible advanced warehousing operations that are based on an understanding of the Logistics Individuality of electronic components such as semiconductors and components for precision devices. For example, semiconductors need to be kept in an environment where both temperature and humidity are kept at fixed levels, and controls are in place to prevent the adherence of dust or dirt or indeed static electricity. We apply this idea of Logistics Individuality to ACCS, the warehouse management system we developed in-house, and this is what enables us to standardize the knowledge we've built up over our vast experience across our warehouses around the world. It's also why we're able to offer the same high quality warehousing functions across ASEAN as we operate in Japan and China.
All of our warehouses offer operational excellence, but our Bangna warehouse in Thailand, newly established in 2019, deserves particular mention. The Bangna warehouse is installed with an air-conditioning system that's gentle on delicate electronic components and boasts an energy management system that's environmentally conscious. It is situated in a location where there is no record of flooding, thanks to due consideration of the risk of unexpected events, including natural disasters such as floods. The Bangna warehouse not only offers temperature and humidity control, anti-static controls, and security befitting of a top quality warehouse, it is also adapted to high-mix, small-lot operations that take into account the Logistics Individuality of similar products in Japan. Distribution processing, a particular strength of Alps Logistics, is also available at this warehouse. The Bangna warehouse is ideal to use as a central base for a new supply network across ASEAN.
Japan-quality operations at our Bangna warehouse in Thailand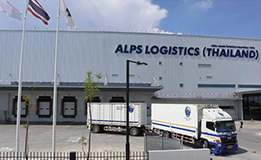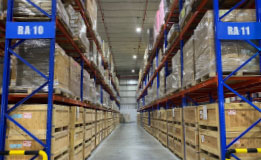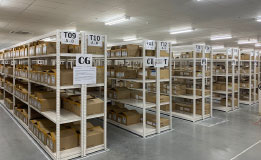 Logistics schemes leveraging our Thai warehouse
Applying our China experience to use bonded zone schemes
As manufacturing shifts production from China to ASEAN, the use of bonded warehouses is a mechanism of increasing interest in relation to component supply. "We want to be able to offer Just In Time Delivery to assembly manufacturers who have moved their production to ASEAN, just as we do for our China-based customers". Any supplier seeking to achieve this should consider making use of Alps Logistics' bonded warehouses. By applying our extensive experience of complex customs bond schemes in China, we are able to offer optimal bonded operations to our customers across ASEAN, based on a strong understanding of the regulatory environment in each country.
Basic approach to customs bonds
Non-resident inventory management using bonded zones
Below is an example of how we operate a bonded non-resident VMI in Malaysia. Alps Logistics has bonded warehouses in the vicinities of Kuala Lumpur International Airport and Port Klang, enabling us to store components brought in from plants overseas via land, ocean, and air routes as bonded non-resident inventory. In accordance with supplier-issued instructions, we can offer a wide range of shipment options, including the delivery of imported goods to delivery destinations within Malaysia, bonded transfer to bonded plants, and re-exports to neighboring countries.
Malaysia besides, Alps Logistics also has impressive experience in customs bonds across other ASEAN countries. Please get in touch with us to talk about how to structure your supply chain to make maximum use of customs bonds.
Non-resident inventory x VMI for Malaysian customer
Just In Time Delivery to ASEAN manufacturing plants
Case study: From China to a Thai production plant
Here we introduce a case study of supply chain optimization in ASEAN, designed and implemented by Alps Logistics. The customer is an assembly manufacturer who shifted its production from China to Thailand. Despite the move, in order to manufacture products, our customer still needed to procure components and materials from multiple suppliers remaining in China. Prior to our optimization solution, each supplier was sending separate shipments of components causing an increase in logistics cost. Worse still, all of these separate deliveries made schedule management difficult. The solution we proposed was for the assembly manufacturer to implement a model called Buyers' Consolidation. This would mean that, in the first instance, all cargo coming from suppliers would be collected in Alps Logistics warehouses located in China. Next, it would be loaded as consolidated cargo onto shipping containers and shipped from the Port of Shenzhen, through Laem Chabang Port, then onwards to temporary storage in Alps Logistics' bonded warehouses in Thailand. From here, Alps Logistics would be able to offer Just In Time Delivery to our customer, the assembly manufacturer.
This model offered three distinct advantages. First, the cost advantage: by consolidating the logistics operations, the customer was able to significantly reduce transport and customs costs. Second, the schedule management advantage: lead times could be standardized and timings—of everything from receiving at a specific Alps Logistics warehouse to delivery to the production plant—could be managed. In addition, by changing the mode of ocean freight from Less Than Container Load (LCL) to Full Container Load (FCL), the customer was able to achieve not just reduced costs but also shortened lead times. Thirdly, the inventory reduction advantage: namely, using schedule management to eliminate the need to carry more inventory than necessary at production plants.
If you want to discover how you can best optimize your supply chain across ASEAN, please get in touch so that we can design a solution perfectly tailored to you.
Procurement logistics,
from suppliers in China to production plants in Thailand