Reliable integrated logistics that brings data centrally managed across borders
Alps Logistics is a global integrated logistics company providing all the logistics processes from warehousing, to transport, to cargo import and export. We can offer our customers the reassurance that comes with having borderless, centrally management of data, as well as deliver an integrated logistics service tailored to each customer's industry needs, be that Just In Time Delivery, shared warehousing, or shared delivery.
Integrated logistics service by Alps Logistics
Forwarding always starts with warehousing
Proper warehousing and management form the foundation for safe and high-quality international freight. That's how we see it at Alps Logistics. This is exactly why we see our import and export cargo handling service as an extension of our warehousing service. Starting with warehouse operations based on a clear understanding of what we call Logistics Individuality, we have established centers where we can carry out import and export operations in Japan's major international gateways, such as Narita and Kansai International Airports and the ports of Tokyo, Yokohama, and Kawasaki (collectively known as the Keihin ports) and Osaka port. These enable us to operate our Global One Channel Service, which links our customers to their delivery destinations door-to-door.
In order to continuously improve the quality of our service, Alps Logistics manages our own operations and network both in Japan and overseas.
Key centers linking Japan with the world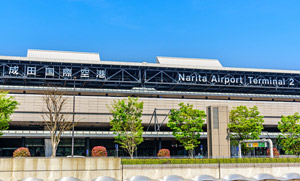 Narita International Airport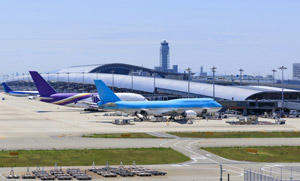 Kansai International Airport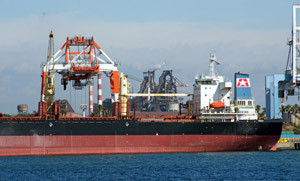 Tokyo and Yokohama Port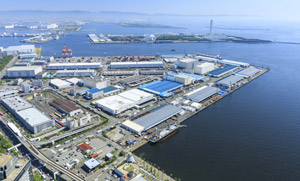 Osaka Port
Redefining reassurance as we connect countries
At Alps Logistics we are currently expanding our own network by establishing local subsidiaries around the world, including China, Korea, the ASEAN region, India, North America, and Europe. We want our customers to feel reassured, so we make sure to secure the international freight licenses issued by the local region and work hard to improve the two distinct advantages of our service.
The first advantage is that being local allows us to maintain operational quality across our global network, to prevent cargo damage and freight errors, and to provide freight services of seamless high quality. The second is that we have a strong understanding of local customs practice and relevant laws and regulations. Customers can be released from the complicated administrative processes such as transportation arrangement under complexed regulations. This translates to our customers being able to save labor wherever possible, for example by being able to avoid using different transport methods in different countries or undertaking complicated administrative procedures.
Our efforts to strengthen our own networkacross all global regions have enabled us to achieve Authorized Economic Operator (AEO) status, which is beneficial in terms of access to simplified customs processes. In every region we operate in, we have local staff well-versed in the high quality freight services our customers expect from Alps Logistics. The organizational structure Alps Logistics has in place is not only truly global, it firmly underpins the sense of reassurance our customers feel towards us.
Forwarding strengths supporting customer trust
One-stop service tailored to customer needs
Centrally information management from domestic warehouse to export destination
As industry becomes increasingly globalized, at Alps Logistics we're aiming to contribute to the optimization of our customers' global supply chains.
Specifically, we work on realizing centrally managed information, through the in-house information systems , to enable us to offer a one-stop solution that can incorporate a diverse range of import and export-related services.
From domestic pick up to warehouse management, export and customs-related work, loading and unloading, temporary storage in the local destination, transport to the delivery destination: if all of these logistics functions are split across multiple companies, the end result will be wasteful use of the customer's money and time. For example, when Alps Logistics ship cargo from Japan to overseas, the information and data of the entire process is digitized. By using the same data to manage freight, not just as it is moved from port to port but from the moment it enters an Alps Logistics warehouse right up to the moment it leaves temporary storage in the Alps Logistics warehouse in the local destination, we are able to speed up checks and inspections across every stage of the process. This is what we call our Global One Channel Service.
Making our entire worldwide network accessible through this One Channel service enables Alps Logistics to manage our customers' global logistics needs.
Overview of our forwarding service
The value of our forwarding service
Outsource your onerous paperwork to us
Taking on the headache of trade administration
The trade administration that comes with importing and exporting often involves the preparation of onerous and complex documentation. By centrally managing our information, we can realize savings in both time and effort for whoever is responsible for this paperwork, regardless of location.
For example, our understanding of labels and management codes enables us to prepare invoices and packing lists on the customer's behalf. What's more, Alps Logistics can also be subcontracted to prepare all documentation relating to forwarding, such as drawing up letters of credit and contract-based loading documentation.
The ability to reduce the administrative burden faced by the customer by adopting the same viewpoint as the customer. This is yet another example of the superiority of the forwarding service we offer at Alps Logistics.
Various forwarding options
Three solutions centered on our multi-functional logistics centers
Alps Logistics has established multi-functional logistics centers in Narita International Airport and Tokyo Port. At these centers, we have multifunctional warehouses that have both domestic and bonded cargo in one building, meaning we can temporarily store any products in transit under the same roof, regardless of whether they are being shipped domestically or bonded cargo from overseas. When combined with our proprietary Alps Logistics information system, this capability enables us to offer three stand-out solutions.
The first is our Global Stock and Delivery Service. This involves us kitting domestically manufactured products and internationally manufactured products temporarily stored in one of our multi-functional centers, as directed by the customer, then delivering them to destination plants across Japan and the rest of the world.
The second is our Export Cargo Handling Service. Here we handle every stage of the export process from packaging products for export through to export customs, allowing customers to reduce lead times and costs.
The third is our Import Cargo Handling Service. Here we handle all import customs procedures at one of our freight forwarding centers, before carrying out all necessary distribution processing, such as issuing and attaching the required delivery notes and labels, at our Narita or Oi Branch and then distributing the goods to domestic assembly manufacturer plants via a Just In Time Delivery.
Please get in touch to discuss how Alps Logistics can help you reduce lead times and streamline other areas of your import and export operations.
Impressive capabilities in both air and ocean freight
Alps Logistics forwarding makes the most of our regional centers around the world and our international freight licenses. From our variety of services, we can propose the optimal freight plan for each customer, be that by air or ocean.
For example, our ocean freight services cover a wide range of freight needs, including: Full Container Load (FCL) service, Less than Container Load (LCL) consolidated service, Intermodal Freight using special containers and conventional vessels, as well as Buyer's Consolidation, which is ideal for procurement logistics, and Foreign-to-Foreign, where goods are not shipped via Japan. Our air freight services include an electronic components service, temperature-controlled services for food, and refrigerated services. We are also certified to ship dangerous materials, for which safety must be assured, safely across land, sea, and air.
International Ocean Freight Services
| | |
| --- | --- |
| FCL Service | A door-to-door FCL service worldwide. |
| LCL Service | Delivery to anywhere in the world through our LCL consolidated service. |
| Special Container Service | We can offer special containers and conventional vessel services. |
| Ferry Service | A ferry service between Japan, China, and Korea for frequent, regularly timed shipments, with the advantages of infrequent delays and smooth loading and unloading. We can also offer this as a Sea and Rail service integrated with rail freight. |
| Dangerous Items Freight | Management of all stages of the shipment of dangerous and chemical items, from packaging to warehousing to international shipment. |
| Buyer's Consolidation Service | Cargo from multiple exporters is consolidated into shared containers at our warehouses. This enables us to aggregate high-mix, low-volume cargo by destination and deliver that cargo through a consolidated service. |
| Foreign-to-Foreign Freight | Shipments that do not pass through Japan, including shipments between overseas locations and imports and exports as nonresidents of Japan. |
| Drayage Service | We can offer container drayage service throughout Japan including a round-trip service. |
| In-bond Transport Service | The shipments of goods between custom warehouses, as required by our LCL customers. |
International Air Freight Services
| | |
| --- | --- |
| Dangerous Goods Freight | A safety-assured transport service offered in our capacity as an International Air Transport Association (IATA) cargo agent, operated by staff who hold dangerous goods regulations (DGR) certification. We also provide warehouses for dangerous goods. |
| Chilled Freight | Suited to a wide range of products requiring temperature control. We can also offer chilled packaging. |
| Food Freight | Our range of food freight options includes temperature controlled services for fresh food and services adapted to coolant use. We are able to support customers with import and export regulations and animal and plant quarantine. |
| Narita Airport Shuttle Service | A consolidated shuttle freight service that links up warehouses around Narita Airport with the airport freight sheds. |
Optional Services
High-performance Export Warehouses
Warehousing adapted to function with both domestic and bonded cargo. These high-performance warehouses are made possible with ACCS, the WMS we developed in-house.
Export Packaging
An export packaging service capable of handling any cargo specification, no matter the size.
Equipment Freight
Integrated management of the entire process, from removal, to packaging, customs, loading, international transport, local delivery at destination. We can also support customers in dealing with regulations relating to the export of used equipment.
Consignor Agency Service
We can undertake a wide variety of export-related paperwork on the customer's behalf: product and packaging slips, vessel booking information, letters of credit, contract-based export shipping procedures, preparation of shipping documents, etc.
We can also handle import-related paperwork: import procedures, storage of import documentation, handling post clearance audits, customs negotiations, etc.
Alps Logistics' reassuring excellence in equipment freight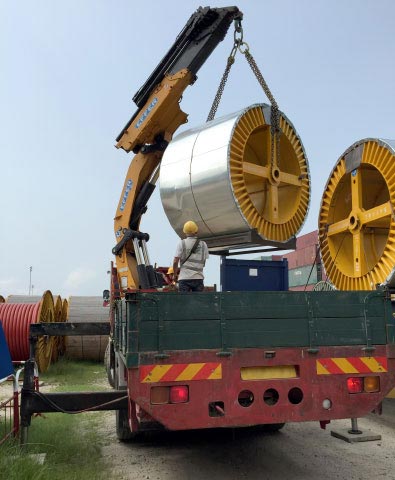 At Alps Logistics, the majority of our customers are from industry, so we have extensive experience in handling plant machinery and equipment as international freight, be that industrial equipment, medical equipment, or measuring instrumentation. We offer a precise and reliable service that's backed up with advanced technical knowledge and is seamlessly integrated from removal through to transportation, disassembly, delivery indoors, and installation. Whether you want to move tiny electronic components or large-scale industrial equipment, let Alps Logistics take care of your international freight needs.