Optimal logistics in India, just as you'd expect in Japan
Rapid economic development in India has seen the number of Japanese companies with a presence in the country increase. Alps Logistics is already able to offer the high-quality warehousing and precise warehouse operations that are widely considered difficult to achieve in India. We work in partnership with a broad network, equipped to cover India's vast landmass, to meet the needs of our customers.
Japan-quality warehouse environment and operation
Warehousing for delicate products in India
A vast landmass. A huge population. Companies from all around the world, including Japan, have bases in India. While it's true that trunk roads linking up India's expanse of land have been significantly developed, as has the organizational framework for the receipt of goods, the overall situation in India is still far from ideal. For electronic components with delicate and complex warehousing requirements, such as semiconductors and in-vehicle electronics, it has generally been difficult to be confident about appropriate handling.
In response, Alps Logistics has established local subsidiaries in the states of Haryana, which borders the capital city of Delhi, and of Gujarat, through which we provide cargo warehousing and transport solutions to Japanese manufacturing companies. We're able to offer the sort of finely-tuned controls required for critical items: epoxy coating floor for dust control, pigeon netting to control bird droppings, air-conditioned warehousing for temperature and humidity control, and more besides. Our high quality storage environments, refined through our vast experience in electronic component logistics, mean that even customers with anxiety about the quality of India's logistics infrastructure can work with us with total reassurance.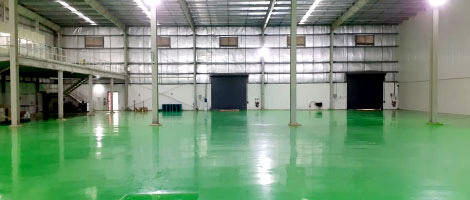 High-quality warehouse operations, just as you'd expect in Japan
The strength of Alps Logistics lies in our ability to realize sophisticated and finely-tuned warehouse operations. We take our expertise and know-how, grounded in a concept of the Logistics Individuality of each type of cargo we handle and fostered through our dealings with more than 6,000 domestic and international accounts, and reflect them in ACCS, the warehouse management system (WMS) we developed in-house. Rolling out across India the same WMS and barcode system that we use in Japan enables us to achieve high quality warehouse operations. It also means that our IT department can handle any necessary system development, thereby ensuring we can respond quickly to any requirements customizations or improvements. We can also offer EDI (electronic data interchange) coordination with our customers' data systems.
What's more, Alps Logistics can provide customers with real-time data, including receiving and shipping out control, inventory control, and freight control, as well as conform to the lot tracing requirements of automotive manufacturers using their own specific logistics schemes. If you want to achieve supply chain optimization in India, you can entrust that challenge to us.
Using barcodes for greater certainty in traceability
Making accurate inventory checks simple with barcodes (minimizing the risk of mis-receiving, wrong item shipping, undelivered items)
Traceability of all operations, from receiving at warehouse to delivery. Shipment information is sent to the customer on a daily basis.
Inventory control can be by product number or lot
A reassuring quality of logistics, even across the vast Indian continent
An extensive transport network for the whole of India
Air freight, ocean freight, domestic transport service, warehousing service, packaging material sales: in India we offer the full line-up of services expected from an integrated logistics company, just as we do in Japan. Our domestic logistics network, with centers in Gurugram (near Delhi), Gujarat, Mumbai, Chennai, and Bangalore, enables us to offer an extensive transport service across the whole of India., We also offer a comprehensive international forwarding service out of India's key ports and airports. The Japanese staff present in our Gurugram and Gujarat warehouses can offer a detailed-oriented response to any local customer needs.
Transport network
Our bonded warehouse service for non-residents
"We don't have a sales company or a subsidiary in India, but we still want to establish a local logistics scheme". Our bonded warehouse service, available in key locations such as Delhi and Chennai, presents the ideal solution to any assembly manufacturers or trading companies struggling with such a dilemma. Through VMI operated bonded warehouses, from which both bonded warehousing and distribution processing are possible, we are able to offer our customers a Just In Time Delivery service to domestic manufacturers across India.
Preferential duty systems, such as bonds and tax exemptions, are not yet as well established as they are in China and other regions. Onerous administrative procedures need to be tackled, including those for Permanent Establishment (PE) taxation, customs regulations regarding sales to domestic companies, and passing the operational requirements for bonded warehouses. At Alps Logistics, we use our expertise and know-how of bonded warehouses across the globe to ensure we can provide robust support for those of our customers who make use of bonded warehousing options in India.
Indian non-resident inventory
Adaptable to the complex requirements of auto component logistics
Tag-teaming with Logicom for a seamless service
In recent years, Gujarat has welcomed an increasing number of Japanese automotive companies. In response, Alps Logistics established Alps Logicom India Private Limited, a joint venture with Logicom Co., Ltd. The main objective of this joint venture is to strengthen the freight links between the state of Gujarat, which has a comparatively well-established logistics infrastructure, and the capital territory of Delhi. Located along the national highway connecting Delhi to Mumbai are major cities and key industrial complexes of two states, and many Japanese companies with a presence in India are based in these industrial complexes. By tag-teaming with Logicom, Alps Logistics can provide a unified warehousing and transport service using its own warehouses between Gujarat and Haryana states. Please talk to us about your needs and we can assist you in reviewing and rebuilding your supply network, as well as adjusting lead times and optimizing supply chains.
Warehousing and transport services that connect Delhi and Gujarat
Inventory control and consolidated delivery service, whether domestic or international
Regardless of whether held inside or outside India, Alps Logistics can manage inventories and organize consolidated deliveries with other suppliers working with the same assembly manufacturer. We can pick up products via our milk runs, a term denoting consolidated services for in-vehicle electronics only, then store as inventory in our warehouses. We can then split and sort products as required, and also handle any specific labeling requirements for delivery. We can handle shipping preparations and deliver on behalf of our customers. We can even deal with cross docking, which entails sorting the products of multiple suppliers into separate shipments without warehousing any inventory.
Based on the same principle, we are able to consolidate cargo at your overseas IPO centers (global procurement centers) and then deliver them via cross docking according to the particular consolidated transport needs of each customer. For example, we could carry out cross docking in Alps Logistics warehouses complete with IPOs, including Singapore, Hong Kong, and Thailand. The advantage here is that the entire schedule—from departure as container freight to arrival at the production plant in India—can be controlled.
The automotive industry has its own specific logistics infrastructure based on Just In Time Delivery, even if that means multiple differently-timed, differently-located deliveries each day. "We sense there is a need to review our logistics network in India." "We are planning to roll out 3PL across India." If these are the challenges you're facing, please get in touch with us.
Just In Time Delivery through milk runs and finely-tuned inventory control
Parts and materials sourced from overseas IPO centers are sent in bundles to assembly manufacturer through our cross docking warehouse