Design to optimize streamlining
and costs across all logistics
The packaging design service we offer at Alps Logistics is unique thanks to its integration of two perspectives: the perspective of a manufacturer, which is how we've developed such strong packaging design skills, and the perspective of a logistics professional specializing in monozukuri (manufacturing), with all the expertise and know-how that entails. This strength is why we're able to help our customers optimize their total logistics costs.
Our twin pursuits:
monozukuri and logistics efficiency
Packaging design skills honed through electronic components handling
Alps Logistics is part of the Alps Alpine Group, which manufacturers a range of products including electronic components and automotive infotainment. That history, which has supported our packaging design capabilities from our standpoint as a group logistics company, is also a history of tireless focus on achieving excellence in packaging design technology.
We are a specialist logistics company for customers working in monozukuri (manufacturing). Our packaging design technology, honed through the manufacturer-oriented perspective we have fostered, is another advantage we can offer our customers.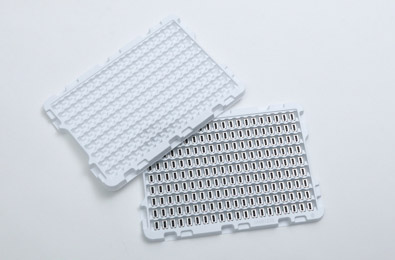 Packaging design built on a logistics-centered perspective
"What's important is the product so there's no need to think too much about the outer packaging". "We want to protect the product at all costs so we're happy even with excessive packaging". So some might think. But considering only the product as important during packaging design can cause logistics costs to soar.
If the dimensions of outer packaging aren't aligned to those of the product, there will be unused space inside. If the shape and strength of outer packaging aren't optimal, damage will occur when they are being stacked, potentially resulting in product inspections or the need for repacking. The most direct factor in determining costs is the pallet load efficiency. For the consolidated transport of electronic components, we generally opt for pallet transport, taking into account workability and damage prevention when repacking. If there is unused space inside pallet-loaded boxes, in terms of cost the customer is essentially paying to transport thin air.
Of course, packaging is crucial in preventing damage to products during transportation. But if that is the only focus, transportation costs will be significant. Here at Alps Logistics, we consider load efficiency as the key to efficient packaging design.
Design that balances quality and logistics cost
Enhancing transport quality while also protecting the products being transported requires a deep understanding of monozukuri (manufacturing), from electronic components onwards. This is the conclusion we've come to at Alps Logistics in the course of understanding packaging design from a manufacturer oriented perspective. But in order to give due consideration to load efficiency and cargo handling efficiency, we also need to be able to adopt a logistics professional-centered perspective.
Allow us to illustrate this with an example of how we can improve packaging design. One of our customers was arranging deliveries of automotive parts via pallets loaded onto 10t wing body trucks. Their existing packaging was designed to protect the product but it resulted in dead space on the pallets. Alps Logistics proposed improvements that would put a stop to their pallets being wastefully used to transport thin air. Based on the shape of the product, we made alterations to the height and depth of the outer packaging. In doing so, we made it possible to transport the same number of units in each box, while reducing the amount of pallet dead space. With our improvements, the number of boxes loadable per pallet went from 12 to 16, a load efficiency improvement that meant cargo previously being delivered by four 10t trucks could now be delivered by just three trucks. This is a prime example of how packaging optimization can lead to enhancements in transport efficiency.
A manufacturer-oriented perspective and a logistics professional- perspective: by integrating these two approaches into an unmistakable skillfor design, we can help our customers achieve the optimization of their total logistics costs.
Example of packaging design improvement
Achieving efficient loading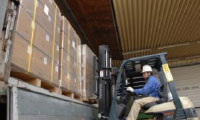 Reduced
costs
Improved
transport quality
Improved
load efficiency
Packaging improvements only possible with Alps Logistics
Flexibility for rapid sample production
Manufacturers of packaging materials are able to create packaging according to your specifications, but this generally results in packaging that's been designed without the logistics professional perspective that Alps Logistics can offer. We can propose packaging designs that will optimize both your packaging and your logistics in a single stroke. We have in place a flexible structure that enables us to carry out all processes necessary to packaging design, from start to finish: planning, design, prototyping, and assessment. That same flexibility enables us to turn proposals around rapidly, thanks to reduced design delivery timeframes. We're happy to design for small lots and we work with a wide range of packaging materials, from cardboard boxes, to cushioning materials, to plastic returnable boxes. We can also work to JIS specifications* and handle all relevant compliance testing. Our set-up allows us to implement a wide range of tests, from vibration during transport tests to actual transportation.
Case study: an optimal solution for manufacturer and supplier alike
Allow us to introduce another example to make it clear just how significant the improvements we can make to your packaging can be. In this case, our customer was a supplier delivering in-vehicle electronics to an automotive manufacturer. The specification was to deliver the components in returnable boxes using dividers to create space for 4 units (2 units in layer 1, 2 units in layer 2) in each box.
We immediately focused on the dividers, which were made from plastic material. Although they guaranteed the supplier's products were protected, their use meant that each box could hold only 4 units, resulting in poor load efficiency. The dividers were also intricately shaped and difficult to remove, meaning that on collection the empty boxes took up the same volume as they did on delivery, resulting in poor transport efficiency. We concentrated our efforts on these two points.
The result was a vacuum-molded polypropylene tray, usable as a returnable box and with enough space for 6 units, or 1.5 times the previous load efficiency. What's more, the trays were designed to be stacked facing the same direction for delivery, then rotated 180° to be folded up for collection, resulting in a 43% increase in transport efficiency. It goes without saying that this was a positive result for the supplier, but it meant advantages for the manufacturer receiving deliveries too, such as the convenience of a significant reduction in required storage space.
Example of packaging improvement
Rich line-up of packaging materials for sale
At Alps Logistics we handle a rich line-up of packaging materials. As well as our custom design products, the range includes packaging meeting specific standards and widely-used designs. Only Alps Logistics can propose optimal packaging solutions that bring together reliable packaging technology and a logistics professional perspective. Please get in touch to discuss your needs.
Custom design products / original products
Cardboard boxes / Trays (e.g. vacuum molded) / Corriboard / Cushioning material etc.
Standard items
Stretch film / Plastic pallets / Packing Tapes / Returnable boxes etc.
Logistics equipment
Box making & sealing machine / Shelves & racks / Air cushioning material inflators etc.