A purchasing service particular to our integrated logistics capabilities
From the procurement of materials, to warehousing, transport, and import and export. At Alps Logistics, we can manage it all with our fully integrated, door-to-door service. What's more, with our flexible purchasing service, particular to our capabilities as an integrated logistics company with monozukuri (manufacturing) expertise, we can bundle materials procurement with logistics services, thereby lightening workloads for our customers and assisting them to achieve optimal inventory control and shorter lead times.
Why everyone's talking about purchasing services
Driving inventory and procurement cost optimization
Industry is undergoing many changes, which has led to increasing complexity in the purchasing of raw materials and parts for products. For a plant sourcing materials for production internationally, the changes in materials procurement plans and inventory control that come with demand fluctuation can be burdensome to deal with.
The Alps Logistics purchasing service involves buying and warehousing materials on behalf of the customer. We then supply those materials door-to-door, as instructed by the customer, to any domestic or international destination. In doing so, we reduce the customer's administrative burden while also contributing to the optimization of inventory and procurement costs.
Helping customers focus on core work by reducing their purchasing admin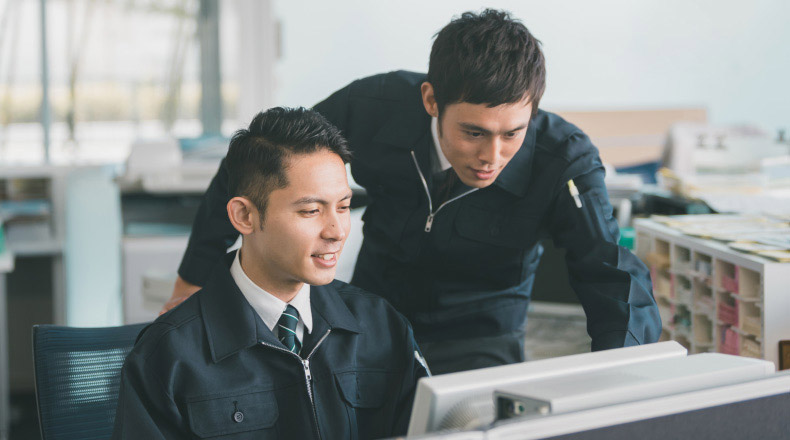 Purchasing work is becoming increasingly complex, while the day-to-day work of materials purchasing departments in plants is encompassing a broad range of tasks. From forecast control, to sales order processing, delivery schedule checking, inventory control, import and export paperwork, warehousing and delivery procedures…
This sort of workload can be reduced by outsourcing purchasing operations to the Alps Logistics purchasing service. By transforming part of its purchasing work into a variable costs operation, the customer is able to then optimize costs in accordance with trends in markets and sales. Staff resources can be reallocated and the materials purchasing department can focus on its core work. Please contact us to talk about our Business Process Outsourcing (BPO) services.
Purchasing made possible by
our integrated logistics
An all-in-one solution from import/export, to warehousing and packaging materials
What makes the Alps Logistics purchasing service distinct is that it's something only a globally integrated logistics company can offer. From the procurement of materials, to warehousing, transport, and import and export, we can manage it all through an integrated, door-to-door service. For example, when a customer has both domestic and international centers for procurement and production, we work with our local subsidiaries across the world, applying our extensive know-how in import and export handling services. What's more, by bundling with our warehousing services we can operate as a VMI warehouse on behalf of the customer. Our packaging design service, supported by our proven track record in commissions, means we can offer an all-in-one service that extends all the way through to packaging materials. The benefits of our service tie directly into improved logistics functions, such as inventory reduction and lead time contraction.
Another strength is that we understand, from a manufacturer's perspective, what purchasing work entails, thanks to being a part of the Alps Alpine Group, a manufacturer of electronic components. What's more, unlike specialist trading companies, we can deal with parts from any manufacturer. The Alps Logistics purchasing service is ideal for any parts manufacturer or assembly manufacturer looking to streamline the purchasing of mass-produced products, such as electronic components or automotive components.
Strengths of our purchasing service
Evolved from logistics:
our purchasing service
Warehousing, transport, import and export: we handle it all at Alps Logistics. Let us assist you with our lead-time-shortening, flexible services.
Handling a wide range of materials
Because we carry out purchasing process independently, we can even handle competitor parts, unlike dedicated trading companies.
Extensive experience
We have extensive experience and proven performance in our export purchasing service in regions and countries all over the world, including Europe, Mexico, and China.
Expertise and know-how
through electronic components
As part of the Alps Alpine Group, a manufacturer of electronic components and automotive infotainment, we have accumulated extensive purchasing experience.
Making overseas VMI warehouses happen
Our global network can be transformed into stock and delivery centers for VMI warehouses. This enables us to offer Just In Time Delivery solutions.
From order placements to Just In Time Delivery
As the globalization of monozukuri (manufacturing) continues, companies need to be able to control materials both domestically and internationally. The result is that companies, for example assembly manufacturers, have to expend a huge amount of workload on just managing suppliers and placing and receiving orders. Alps Logistics can take over the onerous day-to-day work of order handling.
Let's take the example of procuring materials and parts in Japan and delivering them to the customer's overseas center. All the customer has to do issue a purchasing order, from their overseas center to ours, and we'll take care of the rest: we'll procure the materials and parts from domestic suppliers and arrange a bundled export of all required parts. Depending on the schedule indicated on the purchasing order, we might deliver straight to the customer, or alternatively store them in warehouses at our overseas center. In that case, we can then offer a just-in-time delivery service according to customer instructions. Domestic procurement for export isn't the only type of service we offer. We can also import goods procured overseas and deliver them on a Just In Time Delivery basis from our domestic centers, too.
Alps Logistics has a proven experience in handling a wide range of products, including molded parts, molded materials, grease, and metals. We will continue to provide powerful support for global monozukuri (manufacturing) business through our purchasing service.
Service flow
Example) Parts/materials are procured in Japan and supplied to the customer's overseas center